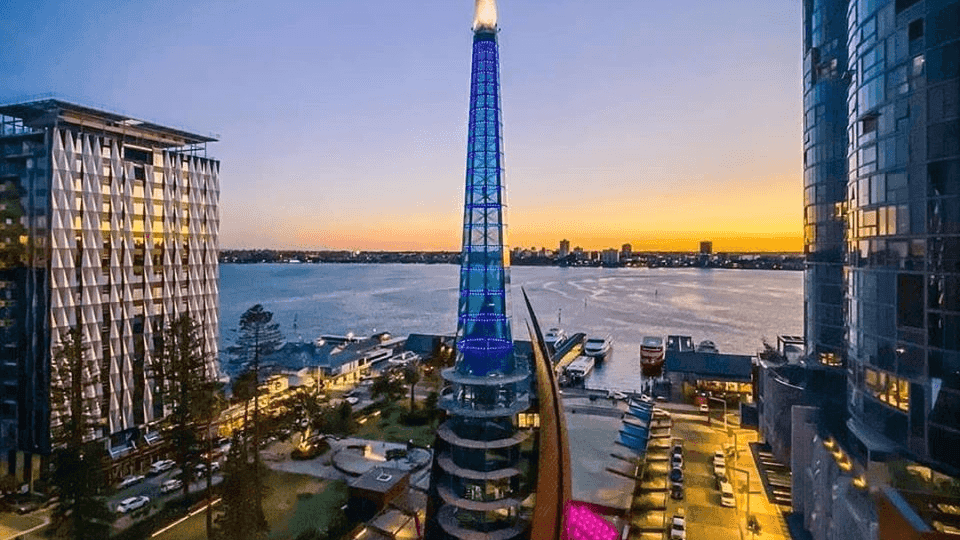 From the towering glass spire of the Bell Tower, one of the largest musical instruments in the world fills Perth City with its chimes.
The Bell Tower, or the Swan Bells, are a set of 18 bells hanging from a specially built 82.5-metre-high (271 ft) copper and glass campanile in Perth, Western Australia.
12 of the 18 are historic bells from St Martin-in-the-Fields church in Trafalgar Square in London; 6 others, cast in recent times by the Whitechapel Bell Foundry, round off the set.
The St Martin-in-the-Fields bells were donated to the State of Western Australia as part of the 1988 Australian bicentenary celebrations; the additional bells were cast with a subsequent donation of metals mined in Western Australia.
The six newer bells include five that were presented to the University of Western Australia, the City of Perth and to the people of Western Australia by the City of London, the City of Westminster and a consortium of British and Australian mining companies, and one bell commissioned by the Western Australian Government.
The tower was designed by the local architects Hames Sharley. The 18 bells have a combined weight of about nine tonnes and, when rung, exert considerable forces on the support structure. To achieve the required rigidity, the six-story bell chamber was made with reinforced concrete cast in situ. The bell chamber was designed by the structural engineering firm Arup.
Soundproof louvres and doors are used to muffle the sound or direct the noise towards the city or the river as required. The glass-clad spire is designed using spokes that radiate horizontally from a centrally positioned axle, declining in width as it rises to a point. The solid-steel columns of the spire are rectangular and the concrete bell chamber is enveloped in 30-metre-high (98 ft) copper sails and glass.
Source: Wikipedia
DETAILS
Location

Perth WA 6000, Australia 6000 Perth Australia

Phone

Website